SME Digital Transformation: Unlocking the exponential growth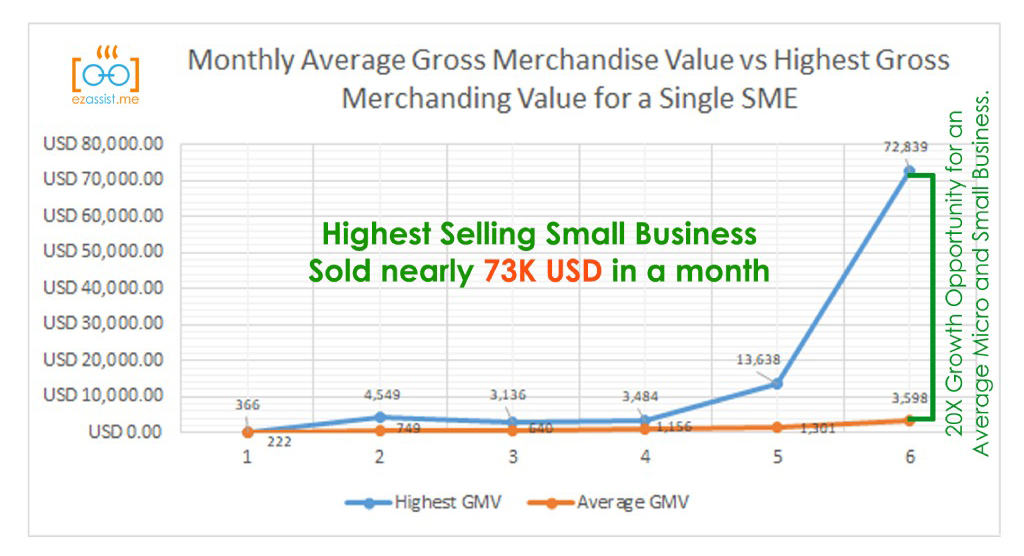 "It is not about the amount of skill in using technology or having access to it, but about how you apply technology in your own business", says Firoze M Zahidur Rahman, Founder and CEO of Loosely Coupled Technologies. In his words, "Everyone can use smartphone and mobile apps. There are plenty of affordable technology platforms as well. The key is effectively applying those technologies in your own business processes to give it a digital transformation and once executed properly the reward is huge."
As we have seen in the USA, giants like Amazon and other e-commerce players leveraged digital information to reach their level of dominance with small and micro enterprises (SME) losing growth as a consequence. But digital information is something available to all and is quite affordable. We have the opportunity to empower SMEs in ways that others could not.
Based on the data from EZAssist – when used by SMEs, we can see a clear improvement in sales growth of the client. Their ability to harness the power of digital information increases. The impact varies from sector to sector, but in any context when you have more knowledge with a potent digital sales platform you can make smarter decisions, making it easier for clients to make the right decisions.
The most encouraging part is, when done right, digital transformation can unlock exponential growth. The difference between could at times amount to almost twenty times in growth.
"Since joining EZassist our sales have reached five figures in just 11 days and we are looking forward to potentially reaching six-seven figure sales in the near future." says Dr. Israfil Merican of Sambal Merican.
Besides sales growth, EZAssist offers other perks as well. "Selling off-line the term payment is always consignment or 60 days. Compared to right now we are selling on-line all payment is Cash. So we have better cash flow now." says Mardhiah from PakCHIPS.
From the data so far, the investment in the learning curve and digital sales as a fundamental sales strategy pays off to the majority of SMEs. In last six month the average Gross Merchandizing Value on EZAssist grew nearly 16 times. On an average, as of February 21, the average SME generated USD 3,598 Sales from EZAssist alone.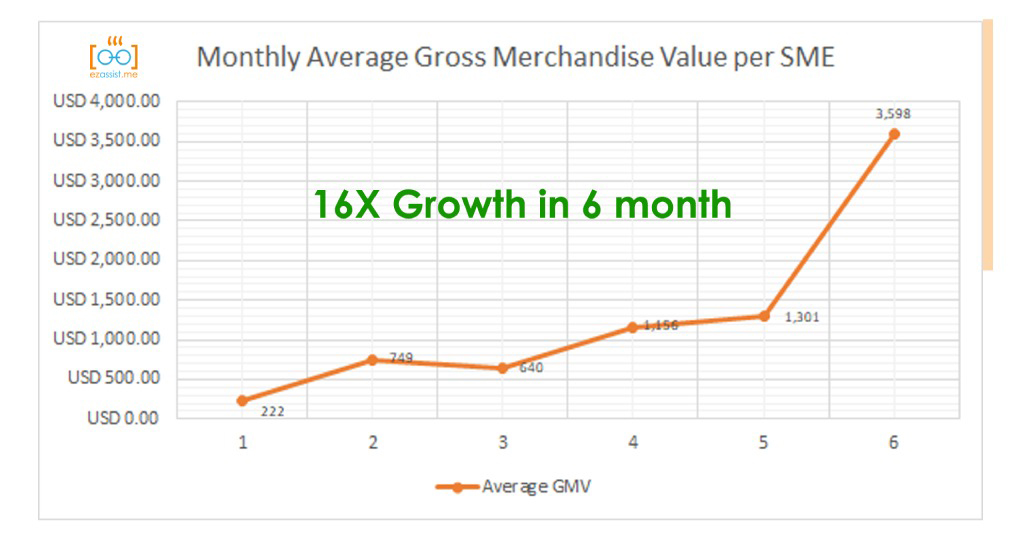 Even though the opportunity is big, unlocking true value requires significant effort and a change of mindset. Conducting business digitally is quite different from offline selling. Getting new customers are also something that most of the business struggle. "To promote, every day I will post on Instagram and sometimes Facebook but the result is not so encouraging unless I boost or run paid ads. This kind of promo cost substantial investment for me. " says owner of Carleed Cookies. However, converting the existing offline customers to digital channels is a low hanging opportunity that businesses should strongly capitalize. With a changed world post-COVID, every business who is not present in digital space faces significant threats to losing customers to other small, medium, or large e-commerce platforms.
Even though SMEs consider getting customers as the main challenge, many business owners highlighted lack of know-how to handle digitalization of tasks, creative productions for marketing and promotion, copywriting etc as key challenges to digital transformation. "They do not how to write Facebook posts, WhatsApp message blast or do e-poster despite some may have gone through numerous online classes/workshops to do this. Their challenge is crafting a communication message that is compelling. Some even get excited, do their own Facebook ads, and waste their money as they try to do it themselves but later on may not able to garner the same results as promoted in their workshop so they get demotivated." says Siti Mazlina Sr. Portfolio Manager for ezassist.
Understanding the digital consumer journey and how to apply digital tools to their own business is a critical challenge for most SMEs. Some also lack adequate infrastructure or willingness to fully operate in a digital environment. "Many SMEs don't know anything about online platforms, don't know how to upload products, Due to slow or lack of internet connection they can't upload product, merchant didn't follow our instructions even after repeated explanations." says Nurul Amran from EZassist.
"Some don't understand why they have to pay Payment Gateway charges and we have to explain why this is convenient for customer and show customer journey and seller journey between these different payment options. Some ask to give them options of COD & Direct transfer. Later they find it a hassle when their sales volume increases then they will ask to close these 2 options and use a more automatic approach." says Ahlan Shawal Minory and Shuvashish from EZassist customer service team.
Despite many challenges, once SMEs decides to transform and commit to their journey of digitalization, the result is remarkably encouraging. We believe, given the right support and guidance, SMEs can succeed using digital channels, gathering digital information on their customers, and continue their priceless contribution to the economy.
Source: Bernama – 15 March 2021 (Monday)